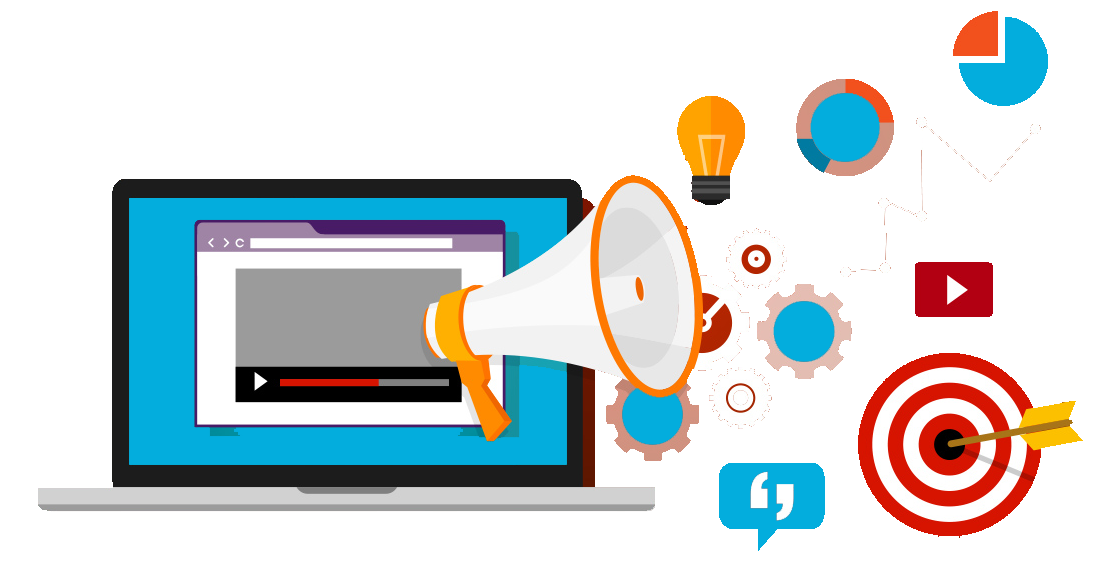 Every month, 1.5 billion users log on to Youtube and spend one hour watching video. From this point of view Youtube is seen as a rival to television. When all this is evaluated, it turns out that Youtube is an indispensable advertising tool. Youtube, the most visited video site on the planet, is getting more and more attention every day. According to a survey conducted in 2015, the number of Youtube visitors has reached 15 billion per month.
The investigations reveal the importance of Youtube. Youtube, the second-most-wanted search engine after Google, is targeting advertisers in this area.Thanks to our writing that gives you extensive coverage on Youtube ad videos, Youtube ad models and advantages, you'll better understand the importance of Youtube adverts.
Youtube ads
Youtube, an organic advertising platform, has become a music-streaming device especially today. A video presented on Youtube reaches millions of people in a short time. For this reason, the interest on Youtube advertising is rising day by day. The most appreciated feature of Youtube ad videos is the payment when is watched
Reklamlar hesabına firmanız və xidmətlərinizi ən yaxşı şəkildə çatdıra bilərsiniz. Bu sayədə hədəf kütləyə sürətli bir şəkildə çata və hədəf auditoriyanız marağını qısa müddətdə çəkə bilərsiniz. Bu mövzularda mütəxəssis olan komandamız əlindən gələni edəcəkdir.
Youtube, which constantly enhances the platform's advertising models, adds new targeting options to the system. In this way, it analyzes users' interests in depth. Youtube, a new dimension to customer insight, provides the best possible presentation of products and services for firms. For those who want to advertise, we offer the best way to target targeting. In this way, using the indicators in Google accounts, a deep and successful target selection is done.
Youtube, one of the world's largest search engines, has a high proportion of tracking in Azerbaijan. For this reason, each brand competes with advertising on Youtube. Youtube adverts are tracked on tablets, mobile devices, and smart TVs as well as from computers. This makes it possible for you to reach more people.
Companies that want to show their brand on Youtube, a very popular platform, have greatly appealed to Youtube ad models. Youtube advertising boards allow users to communicate each announcement and information, especially with the mass of brands. In this way, your brand sales also increase.
Creating Youtube ad models allows us to follow tracking rates, clicks, and so on.. Therefore, this ensures efficient advertising.
Youtube Ad Models
The positive impact of Youtube video ads on targeted audiences has been proven. For this reason, brands that have a growth goal in a short time have also added Youtube ad videos to marketing strategies.
Payment is made when your YouTube ad is monitored. You do not pay Youtubey for the first 30 seconds of the video. However, you need to pay 30 seconds later. For this reason, if you had the most accurate message in the first 30 seconds, you would also lower the advertising cost. Our team of self-developed and trained specialists will help you to present the most exact message for your writing in the most effective way.
YouTube has the following ad types:
TrueView ads (There are two types of TrueView ads )
In-stream ads

run before, during, or after videos on YouTube or on video partner sites and apps. They give viewers the option to skip the ad after 5 seconds. These ads help you drive awareness for your brand and products while people are watching a video

Video discovery ads appear in places where viewers discover content, like on YouTube search results, next to related videos, and on the YouTube mobile homepage. They invite people to click on a thumbnail to watch your video ad and help surface your videos to an interested audience.


Bumper Video ads
Bumper ads are short videos that let you reach more customers and increase awareness about your brand with brief, memorable messages.
Videos must be 6 seconds or shorter. Viewers can't skip your ad.

A view of your bumper ad won't increment the video's YouTube view count.
Ads in the middle of YouTube videos
This ad type is selected for videos longer than 15 minutes. There are interrupted ads on video as well as on TV. Users need to track ads to continue video.